I can't believe it, I liked this band (esp for their song, Munich) for ages and I barely know their look..haha. I once posted that fact on Path and this friend of mine was just like, "youtube dong" I know, in this internet era, everything is just one click away. But I just kinda like to enjoyed their songs without really knowing how they look like (same like The Temper Trap case before I finally googled them). Today, giving up to my curiosity, I finally looked up for Editors' music video a few minutes ago through youtube and I kinda…pleased. I mean, once again I got fooled by how the band sound and how they look. At first I thought they were from Germany (cause of the song title.. pffft) or somewhere else in Europe… guess I'm wrong because it's England where they come from, okay it's quite close since it still in Europe lol. And the singer! I can't believe it. In my mind, I imagine the singer would look like Kaiser Chiefs' singer or even like the guy from Kings of Leon. But then again I'm surprised cause actually he looks like this: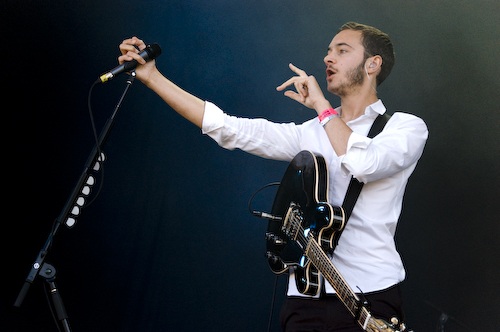 I mean, how can that icy, deep voice come from this skinny guy? :D
Oh, and his name is Tom, Tom Smith. Cool.. but why are there so many frontmen with the first name Tom? Tom Delonge, Tom Powers, Thom Yorke, and now Tom Smith? Haha. The different is, Tom Smith has a unique and deep voice (which is sexy to me). His vocal range is baritone, the kinda voice you can expect to hear from a mature man with beard and suit. Or, from the jazz singer like Louis Armstrong (what a wonderful world). His
vocal style has been compared to that of post-punk singers such as
Ian Curtis
of
Joy Division
,
Paul Banks
of
Interpol
,
Robert Smith
of
The Cure
and
Michael Stipe
of
R.E.M.
. But Tom is Tom. He can sing very well in the live shows and not many singers can do that I think ;p
The former Editors line up consisted of Tom Smith, Chris Urbanowicz, Russel Leetch and Edward Lay. Unfortunately, Chris left the group in April 2012 and his position replaced by two new members: Justin Lockey and Elliot Williams.
According to Daily Mail UK, Editors are the second biggest British band of the decade behind the Arctic Monkeys: Their debut album, The Back Room, sold more than 500,000 copies. They were also nominated for Best British Group in the 2008 Brit Award.
The Back Room (2005)

An End has a Start (2007)

In This Light and On This Evening (2009)

"We put our hearts and souls into a song and to have it used as a tool to make money for something else is sickening."

- Editors about sticking their tracks on TV advert.